May 2023
Category: Product News
By: Markus Sautter

New: GEIGER RESCUE-J for Venetian blinds and external blinds
---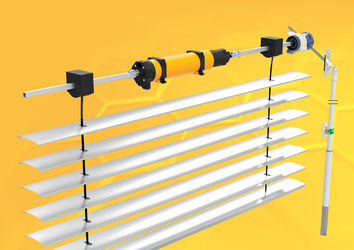 With the RESCUE series, the sun protection can be conveniently operated electrically - in an emergency, the escape route is cleared in no time at all.

Get out quickly in case of fire! GEIGER ensures that the blinds in front of windows or doors can be raised quickly even in the event of a power failure. The central requirement of the model building regulations (§33 MBO) for two independent escape routes for each utilisation unit can thus be easily fulfilled.

GEIGER makes it easy to adapt the sun protection to everyday life. The electric drives operate automatically or by pressing a button - quiet, durable and energy-saving. The special feature of the RESCUE series: In an emergency or if the power fails, the helper becomes the rescuer.

New in the portfolio: RESCUE-J for Venetian blinds and external blinds with 14 mm grooved tube or 12 mm square tube turning bars. The self-sufficient system is based on the proven GJ5606 Venetian blind motor. The electric drive is decoupled in an emergency by means of a freewheel. In this way, the blind can be easily lifted with just a few turns of the hand crank via a maintenance-free gear with a fast 2:1 reduction ratio.

The RESCUE-R for roller shutters with 50 and 60 octagonal shafts also works according to the same principle. It comes with a SOLIDline motor with mechanical limit switching or an electronic Plug&Play drive, freewheel and gearbox. The RESCUE-J and RESCUE-R also come with a spherical bearing, a slim AvantGarde hand crank and a crank holder.

The battery-buffered RESCUEline for Venetian blinds and external blinds can also be operated independently, but is usually integrated into a building control system or fire alarm control panel (FACP), as is common in public buildings such as schools, administrations and company buildings. All RESCUE systems from GEIGER are suitable for both new construction projects and retrofitting.
---