GEIGER presents new tubular motors at R+T digital
---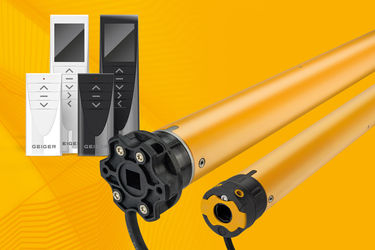 The drive specialist for sun protection systems will present the newly developed TECline as well as new hand-held transmitters at R+T digital 2021.
The new series starts with motors for the most common applications: The PRO.TECline with a 45 mm diameter is suitable for roller shutters, screens and awnings with a torque of 10 Nm to 50 Nm. With the SLIM.TECline, GEIGER also offers a tubular motor for smaller applications with 35 mm diameter and 6 or 10 Nm torque. The motors can be controlled mechanically or by radio. Further models are planned.
"In order to best meet the requirements of the industry, we have produced a reliable, silent, cost- and energy-efficient drive. With the new TECline, we now offer specialist companies and OEMs appropriate solutions for a wide range of applications and projects," explains Dr Jens Hoche, Global Sales Director at Gerhard Geiger GmbH & Co. KG. The TECline drives are compatible with GEIGER's proven system components such as bearings, adapters, etc. and enable safe and quick assembly.
"Optimal interaction between our Research & Development, Manufacturing and Quality Management departments are the keystones of our success," says Jens Hoche. The TECline is manufactured with specially designed equipment and processes that are identical at the German headquarters and at the new subsidiary GEIGER International in China. Audits and a one hundred percent final inspection of the products in Germany ensure the high quality standards and demonstrate the GEIGER brand commitment.
---